OVERVIEW OF FERRIES ON THE LIMFJORD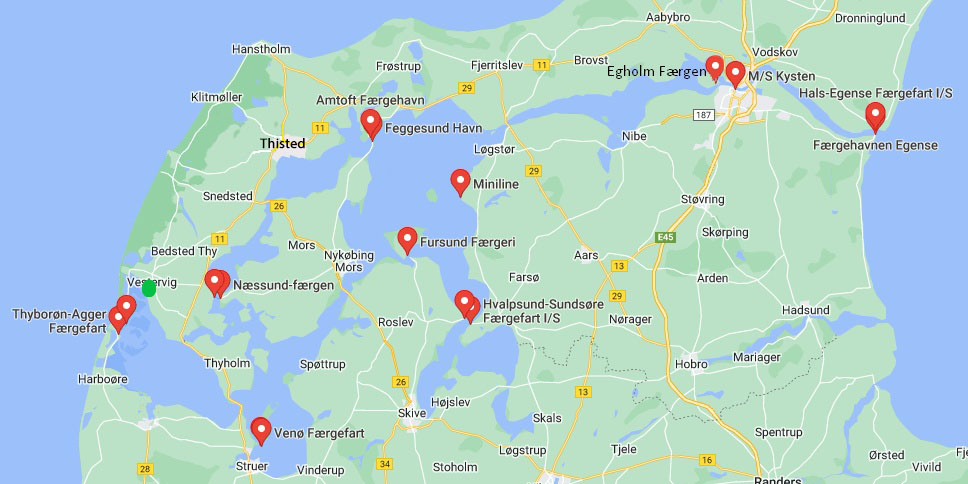 ---
NO 1:

Thyborøn - Agger færgefart
When the waiting volume of traffic exceeds the ferry's capacity, the ferry will leave the sailing schedule and sail continuously without a stop in Thyborøn. This is to reduce the waiting time as much as possible. When the volume of traffic again allows it, the ferry will enter the sailing schedule again. If the ferry is outside the sailing plane and sails continuously, there will be a departure with approx. 40 minutes apart from Thyborøn and Agger respectively. As the ferry begins continuous sailing, a yellow sign will be posted at the approach track at both ferry berths.
---
NO 2:

Næssund færgefart
Ferry service between Hurup harbor in Thy and Nees harbor in Mors.
3 departures per hour from Thy-side and Mors-side respectively
---
NO 3:

Kleppen - Venø færgefart
Ferry to Venø from Kleppen north of Struer
---
NO 4:

Feggesund færgefart
Avoid detours - take the ferry. It is both faster, cheaper and more pleasant to sail. In just 5 minutes, the cozy ferry at Feggesund brings you to or from Mors.
---
NO 5:

Branden - Fur færgefart
Ferry to the island of Fur from the town of Branden, located north of Skive.
---
NO 6:

Hvalpsund - Sundsøre færgefart
The ferry departs at minutes 00 and 30 from Hvalpsund, and at minutes 15 and 45 from Salling.
---
NO 7:

Rønbjerg - Livø færgefart
Sail with us to Livø, which offers both history and rich nature, or take part in an adventurous seal safari.
---
NO 8:

Egholm færgen
The Egholm ferry is a ferry route between Aalborg and the island of Egholm in the Limfjord. The sailing trip lasts approx. 5 minutes. There is usually a departure every half hour, on weekdays between 6.30 and 11 pm. The route is covered by two ferries.
---
NO 9:

Hals - Egense færgefart
The Hals-Egense ferry sails in a shuttle service across the Limfjord between Hals Havn and Egense. Whether you are on foot, on a bicycle or in a car with or without a trailer or caravan, there is room for you on the ferry - otherwise it will come again before you can fill your lungs with fresh sea air.